Week 2
Wed, Mar 15, 2017
May 14 to May 20
In spite of the short night's rest, I was refreshed and in a good mood.
It was raining for the first time on my trip. The Gore-Tex clothing really did its job well, keeping me dry and warm.
At the Romanian border I carefully approached the guard house, nodded at the guard who nodded back just as friendly, and hit the throttle. The guard waved his arms and shouted "No, no! Passport!" I went back and showed him my passport. He nodded again, a less friendly this time, and let me pass.
Somewhere in Romania I met a couple from the US who was traveling from Bucharest to Prague on BMW 650GS bikes. We exchanged compliments on the bikes, our clothes, fabulous looks and general attitude and drove on in opposite directions.
In Sebes I found a place to sleep.
The next day I got up early and drove to Sibiu which is the north end of Transfagarasan mountain pass, made famous by former BBC employee Jeremy Clarkson, who named it the most beautiful road in the world. And indeed, the roads were quite fabulous, until I found a large sign saying CHIUSI in prominent red letters on white background. A local automobilist assured me that the pass was indeed closed. Since my early twenties, the number of fucks I could give on any given day had been steadily decreasing, and so I decided to try to cross it nonetheless.
It went well until approximately 200 height-meters below the top, where a 2m wall of snow stopped me. I drove the overloaded bike into the snow and got stuck immediately, having to dig it out in 20 minutes of exhausting work.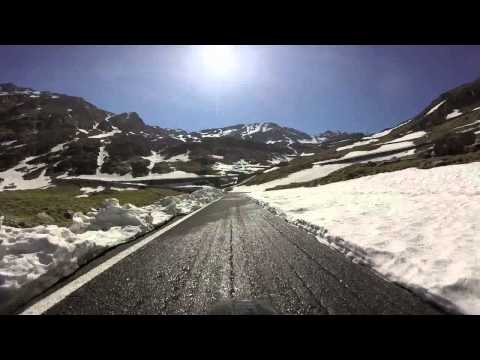 Transfagarasan (video)
I went back down to Sibiu and on the highway to Bucharest. 7km out of the centre I checked my GPS and estimated that it would take me twenty minutes tops to the find a hotel.
Two hours later and sweating like Gérard Dépardieu taking a dump I finally found a hostel, which was fully booked. It took me another hour to find a free one.
I stayed in Bucharest for one more day, and then went on to Constata on the Black Sea coast.
The roads were thoroughly unremarkable apart from the kamikaze maneuvers of lorry drivers and dozens of rabid stray dogs at every car stop along the highway. I went on to Costinesti, a popular seaside resort which is a ghost town at this time of the year, where I found a place to stay.
The next morning I had coffee with the owner of the homestay, an avid biker, and then went on to Varna, Bulgaria.
I was sharing the hostel room in Varna with a delusional Frenchman in his late forties who was unfamiliar with the concept of personal hygiene. At night, he made strange noises not unlike the ones heard on a pig farm, and it is only due to my patience, mellow personality and perfect self control that I did not kick his teeth in, break his legs and throw his odorous body out of the window of the 3rd floor at 4 o'clock in the morning.
The next day I spent in Varna, exploring the city, drinking heavily, smoking and getting lost. In the evening I met a cool French dude at the hostel. He was travelling the world with his ukulele, recording songs and blogging about it.
It felt great to be back on the road. The KLR was humming along nice and steady when I was stopped by a Bulgarian police patrol. I had been obeying the speed limit closely, and unless it is a serious crime in Bulgaria to drive below the limit indicated on the signs, I was unaware of any wrongdoing. My friendly "dober den" was acknowledged with an ever-so-slight nod, my question whether they spoke English or German or French with a loud laugh.
The numbers of the frame and licence plate were meticulously checked and compared with my vehicle documents. Important calls were made, and various times a certain "KLR-650" was mentioned, which is not as easy as it sounds, since the Cyrillic alphabet does not have the letter R. Also, detailed notes were written into a thick book bound in black leather. I didn't have any food with me and got a bit grumpy, which probably didn't exactly speed the procedure up. Also, I really had to go to the toilet. In the end, I got all my documents back and thundered along at elevated speed to find a spot to pee.
I found a sweet family hotel in Sozopol. They gave me a great room with seaside view, spoke English and German and told me which restaurants were the best in town. I immediately went there and had some of the finest fish I'd ever tasted, combined with a good view on the sea. I took some pictures of Bulgarian military vessels in the ocean, which is probably a splendid idea in post soviet states, and then went back to sleep.
Sozopol!
Bulgarian war ship near Sozopol.
The next day I went to the Bulgarian-Turkish border. Getting out of Bulgaria was a matter of minutes, but at the Turkish border, I had to show my passport, vehicle documents and insurance papers at five different places to be finally deemed worthy to enter the fabulous republic founded by Kemal Atatürk.
In Edirne I found a place to sleep and checked out the city. In the restaurant I dined at, alcohol was forbidden, so the guests brought their own small bottles of translucent liquid to the tables, pouring small amounts in their water glasses from time to time and getting cheerier by the minute.