Week 9
Wed, Mar 15, 2017
July 1 to July 7
On July 1, I called the Uzbek embassy about the visa. Of course it wasn't ready yet. In an honest & moving appeal to the consul, I wrote that Samarkand was one of the destinations I had been looking forward to visit most, and promptly, still moved to tears by my very own email, I received a phone call that the visa could be picked up on the same day.
I rushed to the embassy where the consul explained that it was not possible to pick up the visa today, only to start giggling like a madman again. He took the passport and with great care glued in the visa page and stamped it with the kind of dedication that only a long tradition of intricate bureaucratic structures is able to foster.
Readier than ever to leave the hot and dusty hellhole that is Baku, I called Ismael, a fixer whose name was on the internet and who was apparently capable of getting a ticket for the ferry. He told me that a ferry would go in the afternoon and that I should stay ready because timing was of great importance in this particular matter: it was only possible to buy a ferry ticket in the city center shortly after the announcement of the departure, and then one had to race down to the port in Alat 70km south of Baku and hope to reach it before the ferry was leaving.
I checked out of my hotel, had some tea in the center, sweating in the motorcycle pants, when at noon Ismael called again, declaring that there was no ferry today.
Slightly pissed off I found a new hostel in the old town where I met a British biker called Chris who was also waiting for the ferry with his DRZ-400.
The next day, I harassed Ismael and Vika, apparently also a ticket salesperson, but they both told me that there would be no ferry today, so I went to the old town and had a lavish lunch. When I came back, Chris had left - there had been a ferry leaving today, after all, and somehow he had been able to get hold of a ticket!
My mood was so low that I didn't even feel like drinking that night, so I just went to bed at 9pm.
The next morning, I was refreshed and ready to call anyone who was remotely connected to the ferry company and make their lives hell until I got my ticket. The first few answers were negative, but then Vika called back - there was going to be a ferry today!
We agreed to meet at Port Baku. I hopped on my bike and sped through the dense traffic in the inner city, honking and shaking fists while trying not to get hit by the psychopathic sons of oil people cutting through the lanes in their polished Porsche Cayenne Turbos. There are several ports in Baku, and Vikas ticket office was in none of them. After some time it dawned on me that there was also a building called "Port Baku" which was no port at all, but a shopping mall. I got my ticket and Vika sorted out the paperwork for the bike.
I sped down to Alat, passing abandoned oil wells and dirty drying pits of salt water. The desolate wasteland looked like straight out of a Mad Max movie.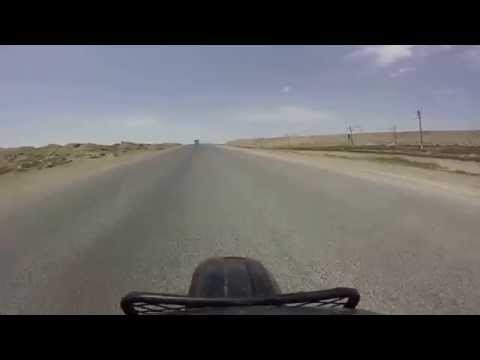 Road to Alat (video)
In Alat the wind was so strong that my bike tipped over while I was talking to the customs officer. They let me pass and exiting the country was quite painless. A civilian tried to sell me a "bridge ticket" for five dollars to enter the ship. I pretended to agree, didn't pay and just went over the bridge. Some people on the boat started shouting, so I went back and payed three dollars to sort things out.
While the ship was being loaded, I tried to talk to the crew. The only guy who spoke decent English was a 3rd mate who soon grew tired of my "What's up, mate" and "Maître de Cuisine" jokes and didn't come on deck again for the rest of the cruise. The First Officer knew some German from his time in Hamburg, but you can only exchange obscenities and racial slurs for so long until a conversation stagnates.
The BARDA is being loaded with train wagons. Of course those trains were unloaded and reloaded onto the boat several times until we were ready to go.
In the evening I was quite hungry and went to eat with the crew. The captain intervened and told me that passengers have to eat after the crew. Since I had skipped lunch in the hurry of buying tickets and racing to the port, the spaghetti-potato soup with chopped chicken tasted absolutely fabulous.
I went to bed and heard the trains being loaded onto the ship.
The cruise itself was quite uneventful. The most interesting thing that happened was that I ran out of cigarettes.
Sunset over the Caspian Sea. If my navigational skills are any good, the sun set in the east on that day.
I had been sleeping like a baby on roofies when the loudspeaker in my cabin started screeching and whailing. Land was in sight and the ship was entering the port of Aktau.
Young Kazakh officers entered the ship and searched my stuff. They were particularly amazed by a huge folding knife that looks like it was made for gutting grizzly bears, a Christmas gift by my brother Benjamin.
I was allowed to leave the ship and a minibus took me the 25 meters to the migration office, where two stunning female border guards took my picture and gave me a small but important piece of paper for further processing. Still enchanted by their charms I was ushered to the next desk.
Papers from the migration office were taken from me, partly stamped, partly replaced by freshly printed papers of a larger format, some of them with text on both sides.
Clearly, there was an order to the process, but with my limited cognitive abilities I was unable to grasp it. I was told to unload the bike and follow the bus to the customs office. In the customs office a huge stash of documents was printed and authorized with various stamps of different sizes and colors, some of them with intricate ornaments, others just with numbers and Cyrillic letters.
Happily I went to the barrier but was denied exit. Something was missing. "Import Office", the soldier told me. I went to the import office, where the vehicle details were recorded and a small booklet was printed. Because of a computer failure this process took over two hours. The next attempt to cross the barrier was also fruitless. "Customs Office", the soldier told me. I got angry and told him that I'd been there already. "Customs Office!", he replied. I decided to calm the fuck down even though I felt like the protagonist in a kafkaesque movie called "Indiana Jones and the Quest for the Last Stamp" and went to customs office again. I repeated the only words that I knew in Russian, "stamp" and "motorsikl", until the officers at the counter were showing signs of utter distress. They gave me three more stamps and I was good to go.
I drove out of Aktau, got lost in the desolate Kazakh steppe, dropped the bike when I wasn't paying attention and hit a patch of deep gravel, so I decided that it was a good time to stop and pitch my tent. After changing the oil and cooking dinner I went to sleep.